On-the-Job Training Practicum: Many positions for a Resort and Marine Yacht Center

Date Posted: 2016-10-28
Location: Herrington Harbour North, Tracys Landing MD
Description
Position: Dock Crew, Yacht Yacht Crew Dock Crew, Yacht Yard, Resort Staff, Tow Boat Operator
Reports to: Megan Hines, Lucy Franklin, Matt Rolen
Start Date: 3rd week in May  – flexible
Typical work week:  Full-Time and Part-Time.  Some flexibility.
Post Training Employment Opportunities:  Yes, based on performance and a good fit.
Position Description and/or Responsibilities:  All year around positions.  We have overnight transients and year round slip holders.
Desired skills: 
Trainee must be willing to learn, willing to help people, customer service oriented, hard worker, dependable, trustworthy, likes boats and being around the water.  We have a variety of positions that need certain skill sets but we can teach the skills to people who have a sincere interest.
Any boat knowledge would be helpful: how to tie up boats, assisting with boater's electric, water hookups, able to drive boats, travel lift experience, blocking boats, general maintenance skills, answer phones, computer skills and most of all good customer service skills.
Hourly Rate:  $10
Hours of Operation: Sunday – Saturday 8 am through 8 pm summer peak hours.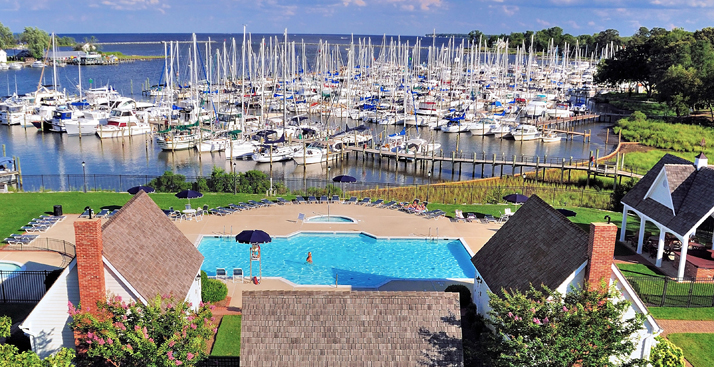 Herrington Harbour Marina North
Herrington Harbour North is a marina resort and yacht center. We are 30 minutes from Washington DC and 25 minutes south of Annapolis on the Chesapeake Bay. We have 600 slips and store over a 1000 boats on land. We have beautiful ground, a restaurant, pool, West Marine store and over 15 expert contractors on site. We operate the marina resort, slips, hauling, storing and bottom painting parts of the business. We have expert contractors that lease space on the yacht center that repair, refit and maintain all aspects necessary for boating.
We are located on a 60 acre facility with lots of landscaping and well maintained docks. Our focus is the customer experience and creating a great place to enjoy boating and the boating lifestyle. We make boating easy and accessible for our customers. Most of our boats range in size from 25 feet to 80 feet in length. We are growing and need customer focused crew members that enjoy helping people. If you like the water and want to be in a beautiful place.
Apply for this job by filling the form