On-the-Job Training Practicum: Boat Building, Boatyard Technician Assistant / Repair

Date Posted: 2016-10-31
Location: Campbell's Boatyards & Custom Yachts, Bachelor Harbor, Oxford, MD
Description
Position:  Boatyard Technician Assistant/Boat Building 
Reports to:  General Manager, Boatyard and Docks/ Office Manager
Start Date:  Sometime after Memorial day (May, 29)
Duration:  Six weeks
Typical work week: Candidate is expected to work Monday – Friday,  40 hours a week (with varying shift start/end times). 
Post Training Employment Opportunities: Yes, based on performance.
Position Description and/or Responsibilities: The training will be broken into multiple phases and experiences.  The candidate will first have the opportunity to receive an overview of exterior boat maintenance which will include washing, waxing and painting the bottoms of boats.  Next the candidate will move into the mechanic shop for hands-on experiences.  In the event that a boat building order is available, the internship will be primarily focused on the boat building side of the business in the boat building shop. 
Desired Skills: Attention to detail, a strong work ethic, and willingness to work outside. 
Hourly Rate: $10
Hours of Operation:  
Monday through Sunday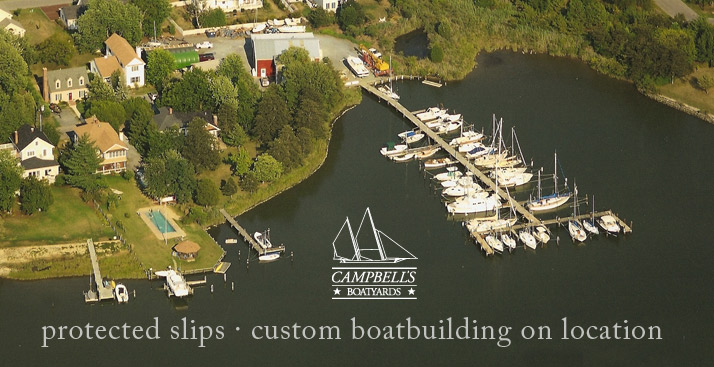 Campbell's Boatyards & Custom Yachts (Bachelor Harbor)
Locally owned and operated, the three boatyard and marina facilities of Campbell's Boatyards offer a complete range of services, ranging from custom boatbuilding, restoration, and repairs – to haul outs, winter dry storage, and slip rentals.  With extensive knowledge and experience, Campbell's crew is familiar with many methods of construction, such as composite fiberglass, cold molding, and even carvel planking. Other services include varnish work, interior and exterior painting, bottom painting, and repairs and maintenance of fiberglass and wood-work.  Campbell's is a certified Cummins dealer with certified diesel mechanics on staff for engine installation, repowers, and repairs.  The marina also offers a complete list of amenities for the boating and cruising needs.  Campbell's Custom Boatbuilders has been building fine custom boats since 1993.
Apply for this job by filling the form