On-the-Job Training Practicum: Technician Assistant

Date Posted: 2016-11-01
Location: Scandia Marine Center, Annapolis, MD
Description
Position: Technician Assistant
Reports to: General and Assistant Managers

Start Date:  Sometime after Memorial day (May, 29)
Duration:  Six weeks
Typical work week: Candidate is expected to work a a flexible weekly schedule of 30-35 hours, Monday through Saturday.

Post Training Employment Opportunities: Yes, based on performance.
Position Description and/or Responsibilities: Candidate will have the opportunity to work in the service department (including mobile services calls) and yard. The training is designed to provide exposure to the varying areas of focus associated with both areas of the marina.  Responsibilities include, but are not limited to: general yard maintenance, power washing boats, assisting mechanics and techs with diagnostics and repairs, as well as organizing the shop.

Desired Skills: Attention to detail, a strong work ethic and willingness to work outdoors in varying elements.

Hourly Rate: $10
Hours of Operation:
Monday through Friday   8 am  – 4:3o pm
Saturday and Sunday   By appointment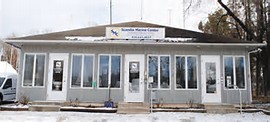 Scandia Marine Center
With more than 25 years of experience, the team at Scandia Marine Center provides power and sailboat owners both on-site and mobile services that include: quality maintenance, repairs, installations, design modifications, custom carpentry, service upgrades, winterization and spring commissioning, sanitation systems, rigging, shrink wrap, and more.  How located at Whitehall Marina, this certified Maryland clean water marina and service yard offers deep water haul-out services with 35 ton travel lift, long and short-term storage, and 130 deep water slips.
Apply for this job by filling the form