On-the-Job Training Practicum: Tech and Mechanic Assistant

Date Posted: 2016-11-03
Location: Pleasure Cove Marina, Pasadena, MD
Description
Position: Tech and Mechanic Assistant
Reports to: Rick Droter and Mike Warf

Start Date:  April or May
Duration:  Six weeks
Typical work week: Candidate is expected to work a flexible weekly schedule of 40 hour.  Monday through Saturday.
Post Practicum and Employment Opportunities: Yes, based on performance and work-load.
Position Description and/or Responsibilities: Candidate will have the opportunity to work in the repair department associated with the boatyard.  The on-the-job is designed to provide exposure to the varying work areas associated with the marina.  Responsibilities include, but are not limited to:  general yard maintenance, basic use of hand-tools, work around boat-lifing equipment (travelift), powerwashing, sanding and painting, etc. 

Desired Skills: Candidate should have some mechanical abilities from changing oil to pulling props off. 

Hourly Rate: $10
Hours of Operation:
Monday through Thursday  9am – 6 pm
Friday through Sunday  9 am – 8 pm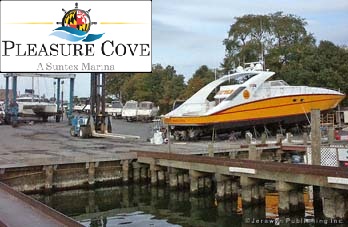 Pleasure Cove Marina, Suntex Marinas
Pleasure Cove Marina is located on Bodkin Creek in Pasadena, Maryland. Following the creek East will put you right into Chesapeake Bay, and further out onto the waters of the Atlantic. Because we offer access to everything in the Bay and Atlantic, but are set far enough inland from the rough shores, our marina is very popular with seasonal boaters. Full service marina with wet slips, rack storage inside & out. Winter storage in a 126000 sq. ft. heat building. Full service department that can handle all repairs.
Apply for this job by filling the form