On-the-Job Training Practicum: Marine Technician

Date Posted: 2016-11-01
Location: Washburn's Boat Yard, Solomon's, MD
Description
Position: Marine Technician
Reports to: Owner, Service Managers and General Manger

Start Date: Early May running through mid-June
Duration:  Six weeks
Typical work week: Candidate is expected to work 40 hours, Monday – Friday

Post Internship Employment Opportunities: Yes, based on performance.
Position Description and/or Responsibilities: Responsibilities include, but are not limited to:  engine commissioning and maintenance, oil and fluid changes, assistance with diagnostics, and shop maintenance.

Desired Skills: Attention to detail, process-oriented, willingness to work outdoors in all elements, and a strong work ethic.  General engine and boat systems knowledge helpful.

Hourly Rate: $10
Hours of Operation: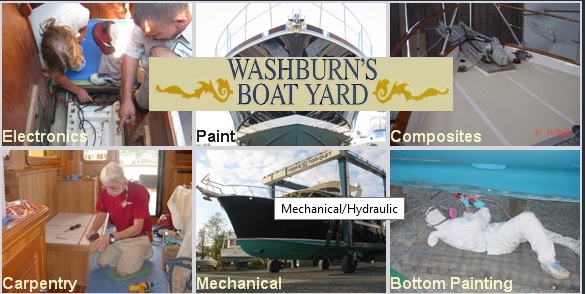 Washburn's Boat Yard
Located mid-point on the Chesapeake along Maryland's western shore, Washburn's Boat Yard is in its 23rd year of operation.  We are a full-service boatyard with a professional staff holding certifications from ABYC, Naiad, Mercruiser, Volvo, Sea Land, ABBRA, Crusair and Norther Lights, among others.  We have two marina travelifts, a 35 ton unit and a newer 75 metric ton unit with a 162,000 pound capacity. A 6-ton boom truck is also on-hand for mast work and engine extraction.  Washburn's is a service facility exclusively.  With no marina, restaurant or putting green, we make our living and reputation by delivering quality service.
Apply for this job by filling the form