On-the-Job Training Practicum: Boatyard and Marina Assistant

Date Posted: 2016-11-03
Location: Rockhold Creek and Marina Repair, Deale, MD
Description
Internship Position: Boatyard and Marina Assistant
Reports to: Marina Manager

Start Date:  After April 1
Duration:  Six weeks
Typical work week: Candidate is expected to work a flexible weekly schedule of 21+ hours, Monday through Saturday.

Post Practicum Employment Opportunities: Yes, based on performance and work-load.
Position Description and/or Responsibilities: Candidate will have the opportunity to work in the repair department associated with the boatyard.  The internship is designed to provide exposure to the varying work areas associated with the marina.  Responsibilities include, but are not limited to:  general yard maintenance, basic use of hand-tools, work around boat-lifing equipment (travelift), powerwashing, sanding and painting, etc. 

Desired Skills: Attention to detail, a strong work ethic, enjoy being near water and boats and have a willingness to work outdoors in varying elements.

Hourly Rate: $10
Hours of Operation: Monday through Saturday   9 am – 5 pm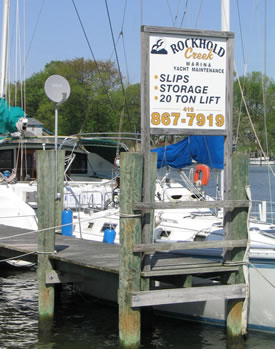 Rockhold Creek Marina
Rockhold Creek Marina is a small service oriented marina and boatyard just 25 miles east of Washington D.C. and convenient to the entire metropolitan area. We maintain a quiet laid back atmosphere on the west shore of Rockhold Creek adjacent to great fishing and cruising areas of the mid-Chesapeake Bay.We have 50 well maintained slips for power and sail vessels. Each slip is provided with water and electric.  Boat and trailer storage also available.
Our 2.5 acre boatyard features a 20 ton open end Travelift and 20 ton hydraulic trailer as well as a 7500 lb. boat forklift. In addition to dry land storage for winter and do-it-yourself clients, we feature a "Boatel" in-and-out forklift service for power and sail boats up to 25 feet. Rockhold Creek Marina offers full painting, hull, engine, mechanical, electrical and plumbing services for boats. Our trained and certified technicians service all major gasoline and diesel marine engines and generators.
Apply for this job by filling the form