On-the-Job Training Practicum: Boat Repairs and Maintenance

Date Posted: 2016-11-01
Location: Tidewater Yacht Service Center, Baltimore, MD
Description
Position: Boat Repairs and Maintenance
Reports to: Production Manager

Start Date:  Sometime after Memorial day (May, 29)
Duration:  Six weeks
Typical work week: Candidate is expected to work a flexible weekly schedule of 30-35 hours, Monday through Saturday.

Post Practicum Employment Opportunities: Yes, based on performance.
Position Description and/or Responsibilities: Candidate will have the opportunity to work in the repair department associated with the boatyard.  The on-the-job training is designed to provide exposure to the varying work areas associated with the marina.  Responsibilities include, but are not limited to:  general yard maintenance, washing, sanding, and painting boats, as well as assisting mechanics and techs with maintenance and repairs.

Desired Skills: Attention to detail, a strong work ethic, enjoy being near water and boats and have a willingness to work outdoors in varying elements.

Hourly Rate: $10
Hours of Operation:
Monday through Friday  8 am  – 5 pm
Saturday and Sunday  CLOSED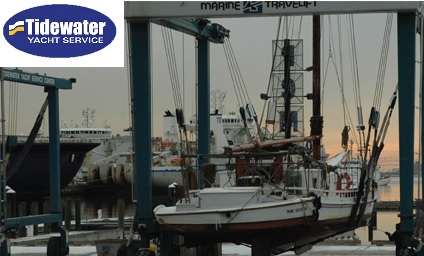 Tidewater Yacht Service
Tidewater Yacht Service sits on 8 acres in the popular Baltimore Inner Harbor.  Since opening its doors in 1987, this full-service facility has tripled in size.  Their team of certified mechanics, skilled craftsmen, and experienced staff provide the highest level of repair and maintenance services in the mid-Atlantic region.  With 35 and 85 ton travelifts, 10 ton forklift, and a 40 ton hydraulic yard trailer, they can service and haul a variety of boats efficiently and safely.  Their 10,000 square foot facility allows them to work year-round without being influenced by the weather.  Tidewater Yacht Center is a member of the American Boat and Yacht Council, and the American Boat Builders and Repair Association.  They are also members of the Maryland Clean Marina Program and were named the 2012 Clean Marina of the Year.
Apply for this job by filling the form