On-the-Job Training Practicum: Boat Repair/Maintenance and Ship Store Assistant

Date Posted: 2016-11-01
Location: Tradewinds Marina, Middle River, MD
Description
Position: Boat Repair/Maintenance and Ship Store Assistant
Reports to: Service Manager

Start Date:  Sometime after Memorial day (May, 29)
Duration:  Six weeks
Typical work week: Candidate is expected to work a 40 hour work week, Monday through Friday with an occasional Saturday.

Post Practicum Employment Opportunities: Yes, based on performance.
Position Description and/or Responsibilities: Candidate will have the opportunity to work in multiple areas of the marina.  Responsibilities include, but are not limited to: working in the ship store, assisting with office needs, blocking/sanding/painting/washing boats, shop and yard maintenance, as well as shadowing/assisting technicians with repairs.

Desired Skills: Good customer service skills, attention to detail, a strong work ethic, great attitude, and willingness to work outdoors.

Hourly Rate: $10
Hours of Operation:  Monday through Friday   8:30 am – 5 pm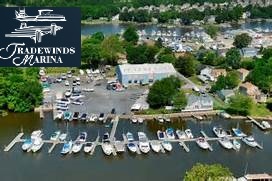 Tradewinds Marina
Tradewinds Marina is a full-service marina located on beautiful storm protected Frog Mortar Creek, off of Middle River in Baltimore County, MD.  It's also easy to locate by land, as the marina is just minutes from I-95 or 695 Baltimore Beltway. Family owned and operated, this Certified Clean Marina offers Cobalt Boats and Premier Pontoon boat sales, brokerage sales, 6 lift slips up to 27 feet, 1 lift slip up to 38 feet and wet slips up to 45 feet, ground storage, full mechanical service, factory trained technicians and much more.
Apply for this job by filling the form